After months of waiting to check Tortuguero off my bucket list, turtle season finally arrived and I made plans with a group of friends to spend the weekend down in tropical jungle paradise. We left San Jose early to make it to the boat dock in La Pavona. After driving through the rainforests of Braulio Carillo National Park and abundant banana fields, we made it to the busy boat dock on the Rio Tortuguero. We were quickly swarmed by folks selling tours and boat rides, but we navigated the swarm and hopped on a river boat destined for Tortuguero Village. The boat ride itself was the beginning of what was to be a very adventurous weekend!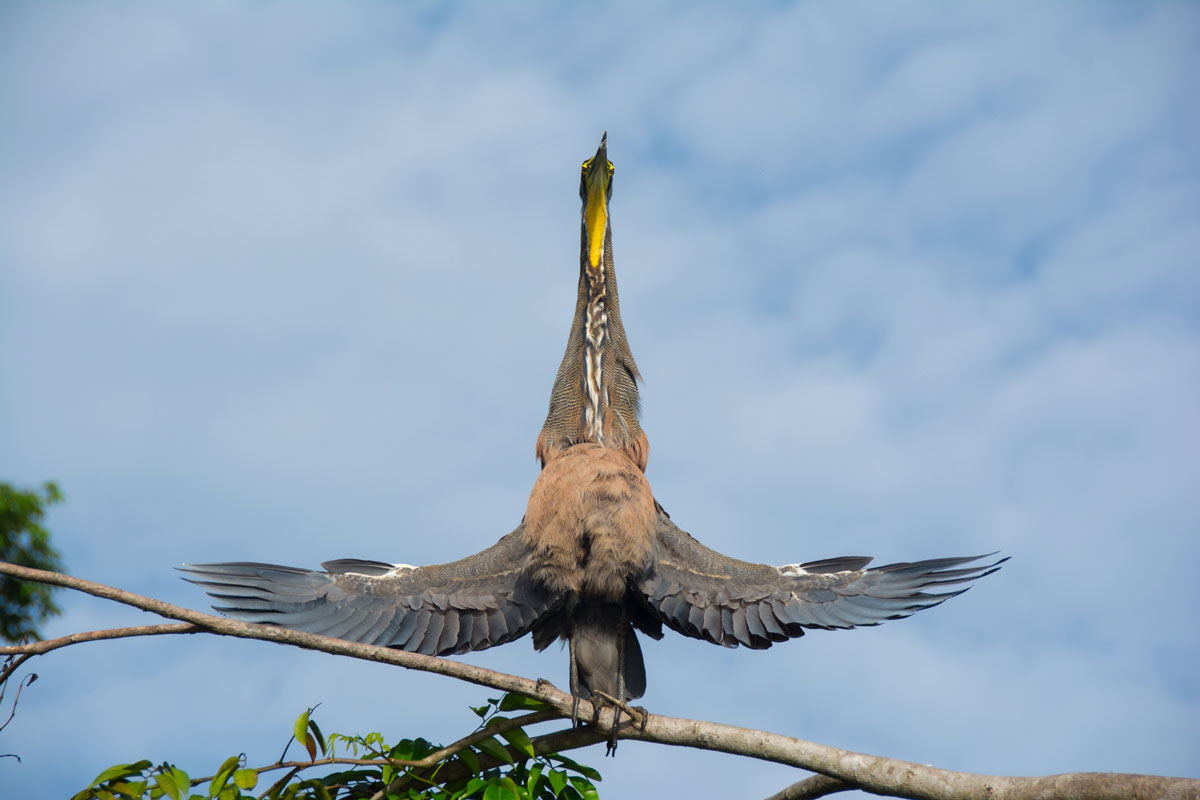 Tiger heron
We glided along winding channels through the jungle, with eyes peeled for crocodiles. After about an hour we arrived in the very tiny town of Tortuguero and made our way to our hotel, La Casona del Tortuguero. Our hotel was located about 100m from the Caribbean Sea, so our first stop after check-in was to dip our toes in the turbulent water. Tortuguero is known for having dangerous rip currents, so we could only put our feet in but the small, palm-lined beach was beautiful all the same! We had no tours planned for the day so we explored the town and stumbled upon a small museum managed by the Sea Turtle Conservancy. We watched a short documentary on the history of Tortuguero, and I was surprised to learn that Dr. Archie Carr, a professor from my alma mater of University of Florida, was actually very influential in the creation of Tortuguero National Park.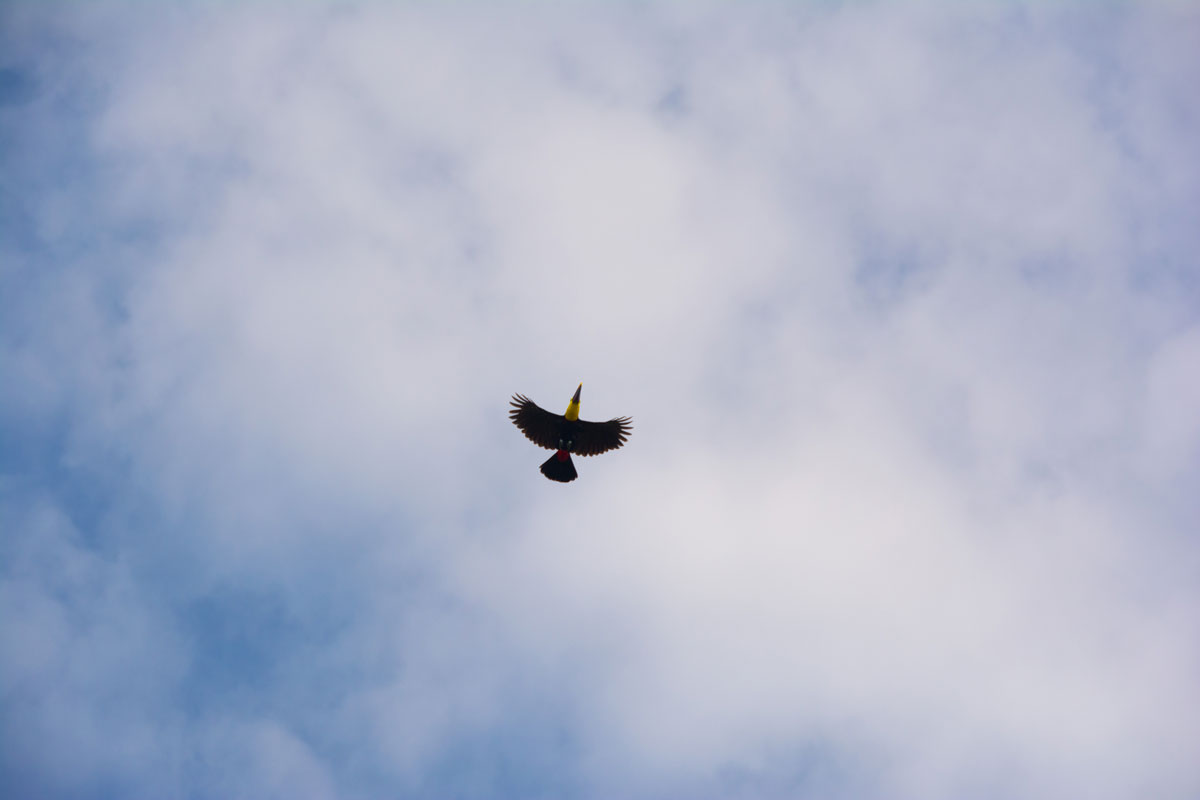 Toucan
Beyond the history, the museum also had an informative exhibit on sea turtle ecology, and we learned about the four species that are known to nest on Tortuguero's beaches (Green, Hawksbill, Leatherback, and Loggerhead). We spent the rest of the evening lounging on the porch of Dorling's Bakery, known for its banana bread (which was quite tasty!) and it's view of the lagoon. After so many months of rainy season, we were pleasantly surprised by a very beautiful sunset!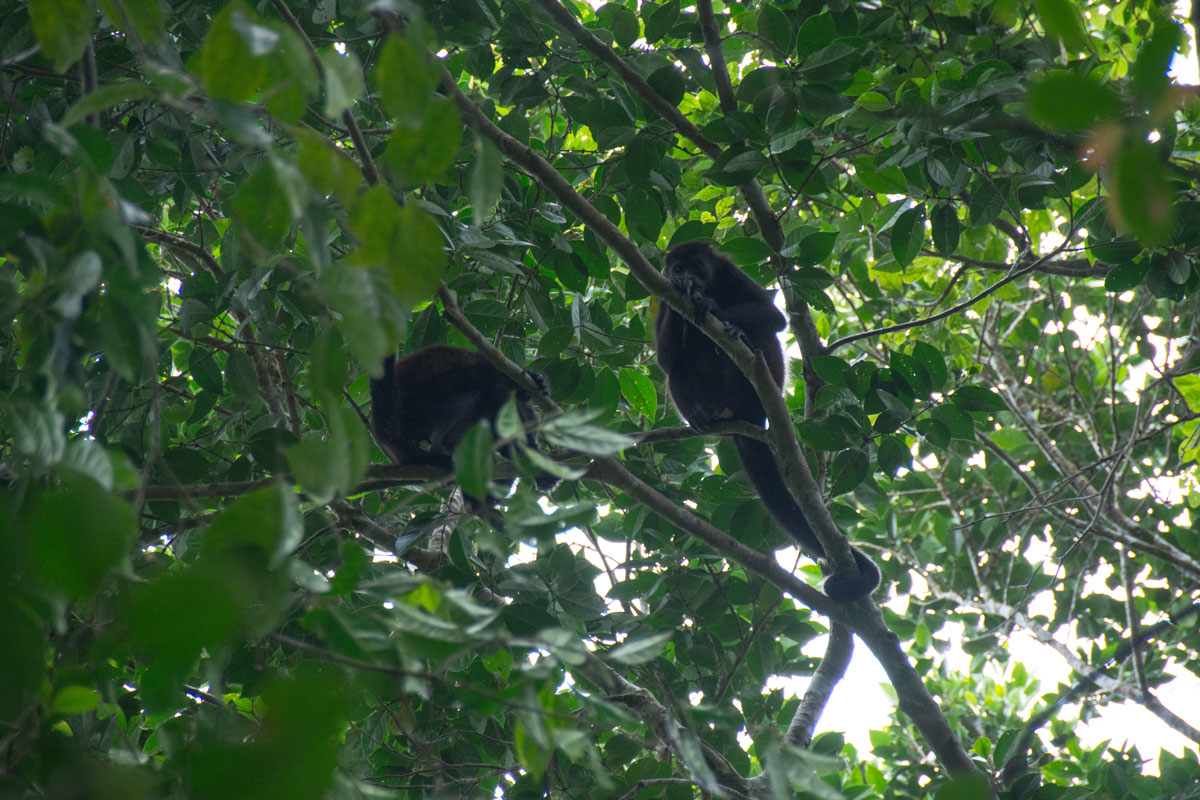 Howler monkey
The next day we woke up at the crack of dawn to make it to our 5am canoe tour of the Tortuguero National Park. We booked a tour with Costa Rica Roots, a Tico owned company with years of experience leading tours in the area. Our guide, David, had been working in Tortuguero for over 14 years, and his knowledge of the ecology and wildlife was impressive! We embarked in an 8-person canoe and slowly paddled our way through the tea colored water, on the hunt for animal sightings. I came to Tortuguero with expectations to see sea turtles, but I was not prepared for the abundant biodiversity of this tropical lowland jungle! From the canoe, we saw a baby crocodile, several river otters, howler monkeys, capuchin monkeys, a caiman, anhingas, herons, toucans, a kingfisher, a two-toed sloth, and a variety of other bird and insect species. Our guide taught us about the interconnectedness of the ecosystem, pointing out different symbioses in the area, like the co-existence of the Cecropia tree and Azteca ants. It was a beautiful morning and I saw firsthand how Tortuguero earned its nickname as the "Amazon of Costa Rica".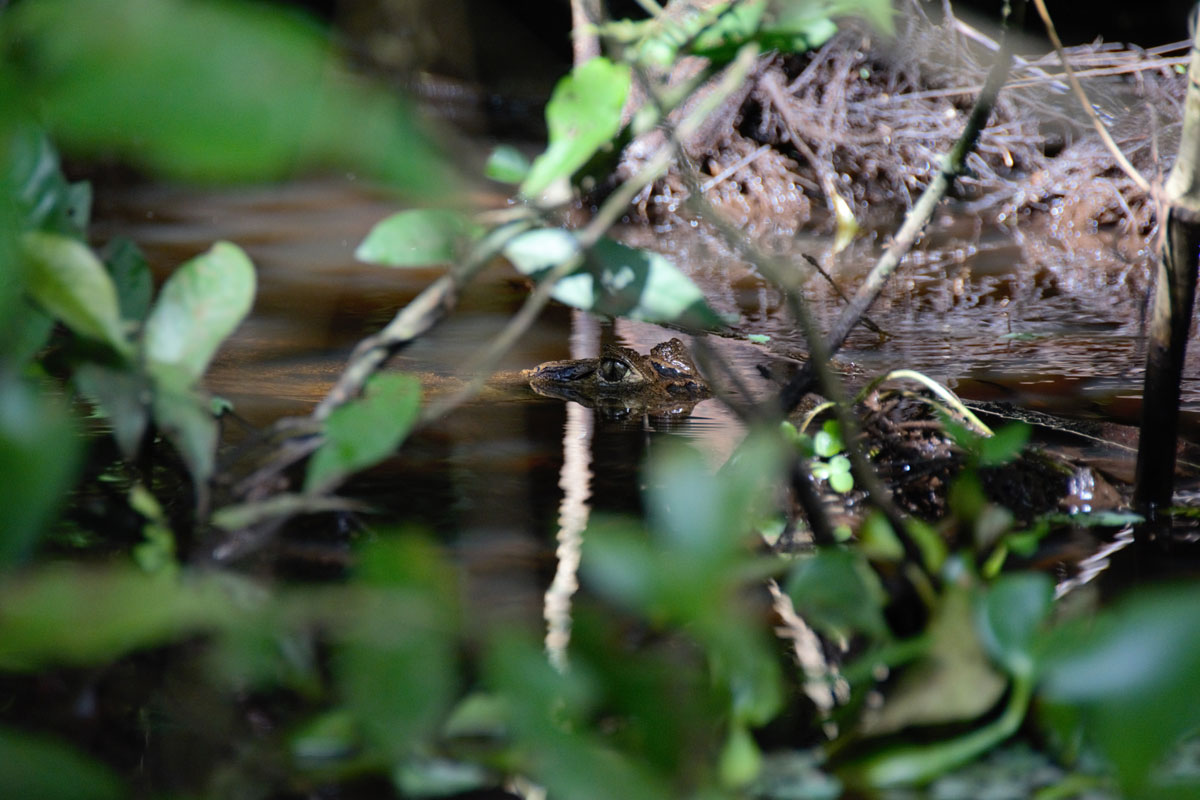 Juvenile crocodile
Our tour ended just as my hunger started to set in, and we headed back to La Casona for a breakfast of pancakes and tropical fruits. After lounging over a cup of coffee, we headed back to the National Park – this time to explore its walking paths. The path is only about 2 km one way but we took our time searching the surrounding greenery for wildlife. We saw three different species of monkeys (Howlers, Capuchins and Spiders) along with some neat insect and reptile species. The path shimmies along the ocean, and we meandered back and forth between sand and mud, both equally lined with an assortment of crabs. After our stroll, we ate lunch at Budda Café, a cute restaurant right on the Tortuguero Lagoon. The food was good, but the view was even better! We spent the rest of the afternoon resting up as we got ready for our nighttime turtle tour on the beach.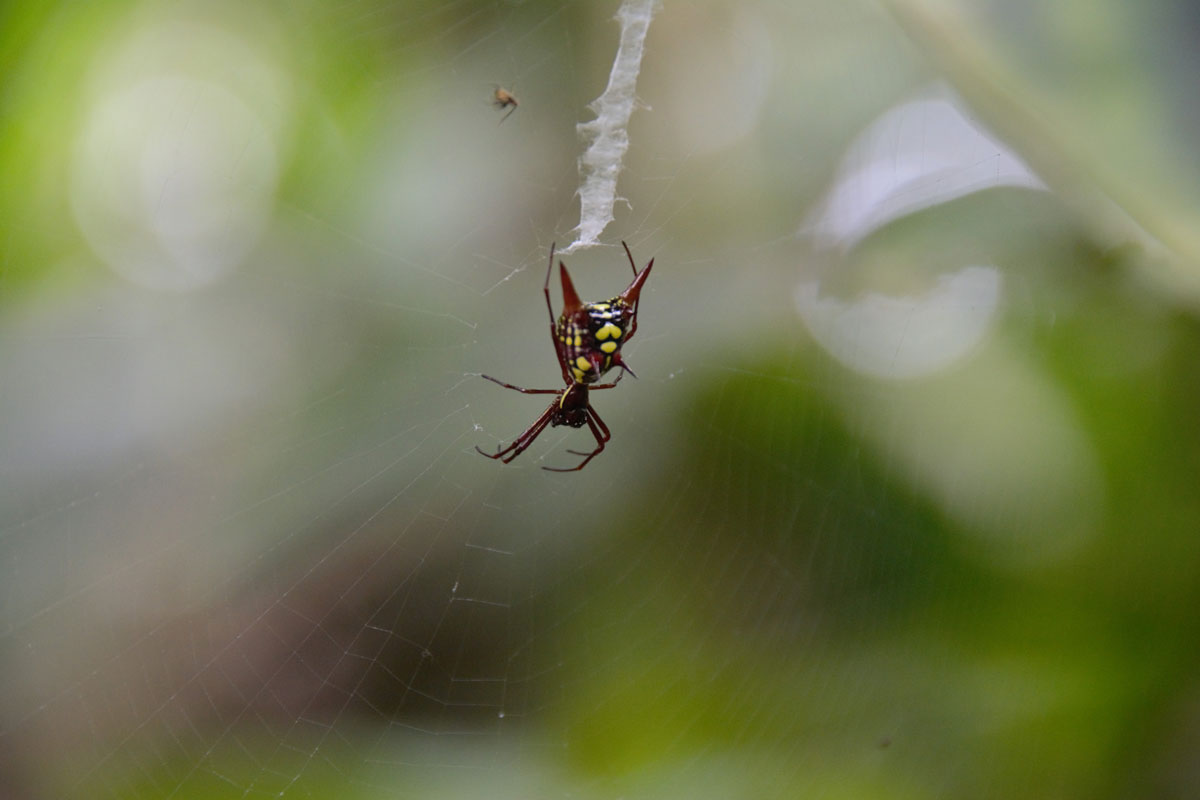 Spider
At 8pm we headed back to Costa Rica Roots, this time in all black clothing. In order to control traffic on the beach during turtle nesting season, the National Park assigns turtle tours to different sections of the park, and we were assigned to a section about 2.5 km from the entrance. We followed the light of our guide's flashlight through the jungle, stopping occasionally to check out critters like tarantulas, moths and basilisk lizards. After about half an hour of walking we made it to the beach where we would hopefully be lucky enough to see a sea turtle nesting. We got word from a spotter that there was a green turtle on the beach, and we switched off the flashlight to walk out on the dark beach. As we emerged from the jungle canopy, the entire night sky was lined with stars. For the first time in my 8 months in Costa Rica I could even see the Milky Way! My eyes quickly adjusted and what seemed to be a black blur in the darkness slowly began to take the shape of a turtle. We quietly approached the enormous green turtle, and our guide shined a tiny red light on her nest where she was slowly dropping her eggs. The whole process of nesting takes several hours, and we spent a good half hour just watching her drop eggs. The momma turtle left behind about 100 eggs in the nest and then she used her strong back fins to fill the hole in and smooth out the nest. Our guide taught us a lot about turtle nesting strategy, and apparently out of every 100 eggs laid, only one baby turtle will survive its first week! While we watched the momma turtle cover up her nest, we saw another sea turtle emerging from the ocean to nest, while yet another turtle was heading back to sea. My experience that night on the beach was nothing short of magical!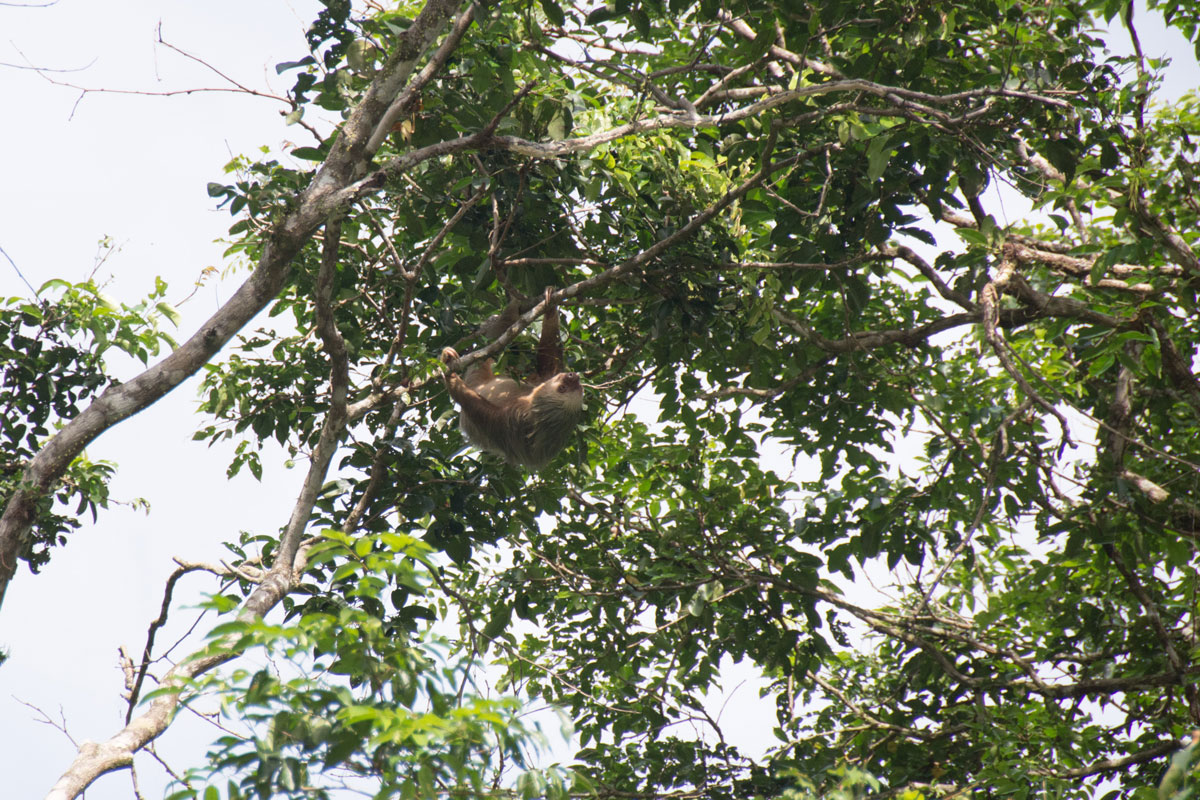 Sloth
After a very well-deserved night of sleep, we woke up Sunday, grabbed some banana bread to go, and headed back down the murky river to La Pavona. I felt sad to be leaving such a beautiful place but as we got back on the road, we were rewarded with another sloth sighting! All in all, Tortuguero is an amazing place and should definitely be on any tourists to do list here in Costa Rica!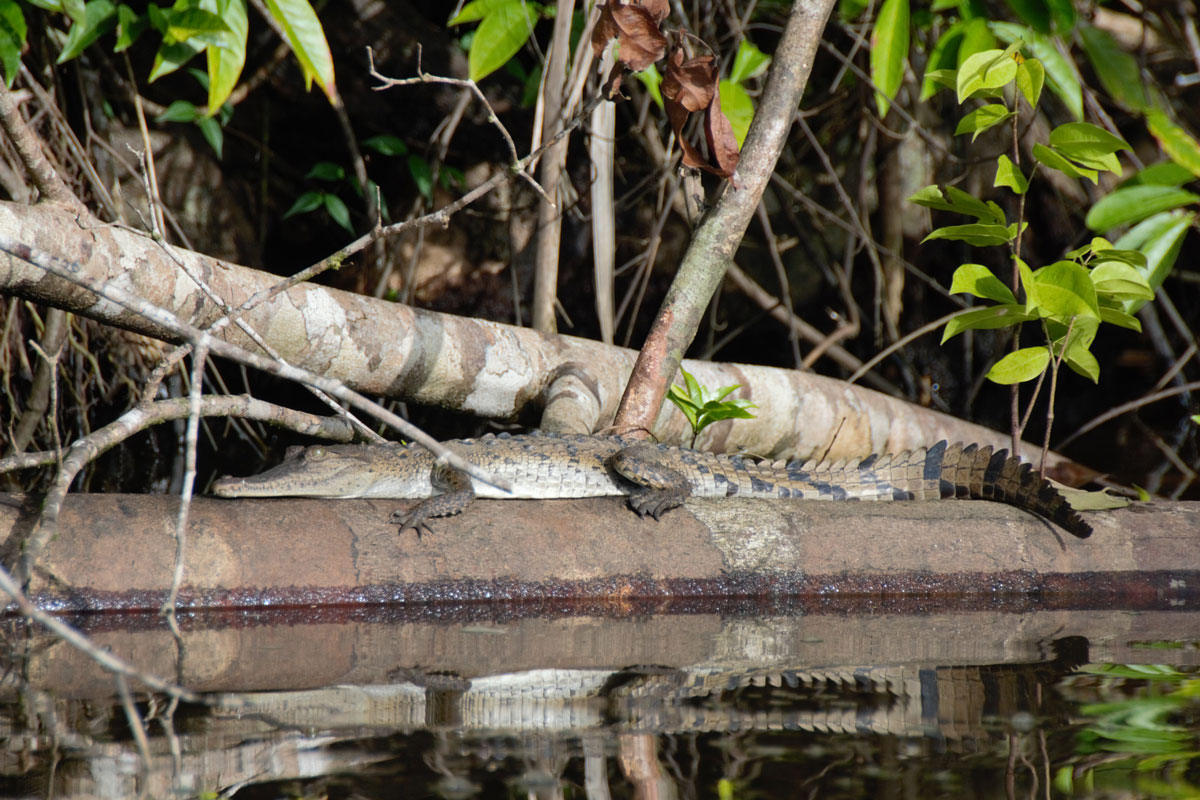 Juvenile Crocodile