I traveled to San Jose in late November. It was my first solo adventure and my first time flying on a plane. I packed meticulously and planned for over a month. I even brushed up on my Spanish! When I first got to San Jose I stayed with a friend I met over couch surfing (Couch surfing is an awesome online community, if you don't know what it is, check it out!). I had planned to go to the east coast to Limón, but my friend suggested I try the west coast instead. He told me about Manuel Antonio and how awesome it is. From my travels to Central America with my family as a child, I learned that locals always know best, so I threw caution to the wind and was off!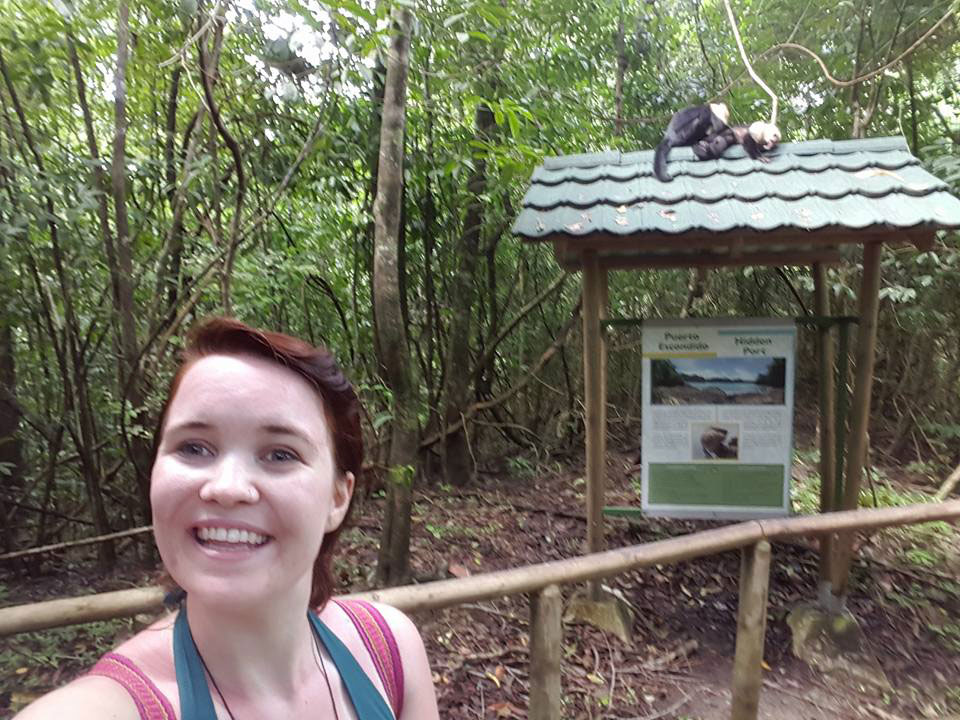 Selfie with the monkey
I bought a bus ticket to Quepos (a city right next to Manuel Antonio) which cost around $4 USD. The bus seat was so comfortable! It took about four hours to get to Quepos, but the time went by quickly because the view was magnificent! I had never seen so much jungle before. I stayed and did most of my eating in Quepos. There were some places in Manuel Antonio, but they tended to be a bit more price wise. After getting off the bus and stretching a little, I was off to find my hostel, which was appropriately named Pura Vida. The website said it was only about a ten-minute walk from the bus station, which only became true for me in the future. The directions online were good, but as someone who traditionally has relied on GPS, I got lost. I mean, before Costa Rica, the last time I had read a map was while watching Dora the Explorer. After about thirty minutes of me walking all around Quepos, I embark upon a steep hill and see a very excited man! He was enthusiastically trying to tell me something, and even though we did not speak the same language, I knew what he was saying so I looked up and climbing was a male, three-toed sloth! "¡Gracias, senior! Los perezosos son mi favorito" I said to him. Did you know that the Spanish word perezoso in English means sloth AND lazy? Because that is my favorite fact in the whole world. As I stand half way up the hill, drenched in sweat, carrying all of my luggage, hungry and tired, I see my hostel! And ya'll, I looked like a wild child. So of course, that means the guy who checks me in is this super-hot, ripped, bearded, shirtless man. The hostel felt like a giant tree house! It had internet, a comfy bed and friendly staff; for $11 USD I call that a great deal! After I went out for some dinner, I came back to the hostel and crashed.
The next morning, Friday, I got up around 6:30 AM. I watched some cute little monkeys play along the roof top and trees and then I was off. Manuel Antonio National Park, my main reason for coming, was closed due to the hurricane. I had heard about a waterfall in the area and decided to look for it. I grabbed some breakfast at a restaurant called La Cocina, I ate here around five times, it was quaint and delicious! Also, everyone who worked there was female, which I thought was very cool. After breakfast, I went back to the bus terminal. "¿ Dónde está la cascada?" I asked. They seemed confused. This should have been my sign to just go to la playa. Communicating through broken spanglish, I thought I understood what bus to get on and where to get off, but after searching for three hours, getting extremely sun burnt and yelling ¿DONDE ESTA LA CASCADA? at every local, I realized I was lost. Again. I decided to head back to my hostel and regroup.
As I was leaving my hostel for the second time that day, once again resembling a human who had been living in the forest, two attractive guys in a jeep stopped to give me a ride. "Are you going to la playa?" they asked. "Yes!" cool, now I didn't have to walk all the way back to the bus terminal and hope I would somehow be able to find my new destination. Please don't tell my mom I got into a vehicle with two strangers just because they were muy guapos! They spoke English so we had a nice conversation. They invited me over for dinner that evening before dropping me off at the public beach in Manuel Antonio. It was my first time seeing the Pacific Ocean and my gracious, it was glorious! I walked along the beach, the breeze and water were cold, but the sand warmed me up. There were huge rocks everywhere! They were fun to climb on, it was like natures playground. I loved climbing on top and hearing the woosh as the waves hit. The water was clear, but too cold and rough for me to swim in. I hear it is a great place for surfing and kayaking though! There weren't many sea shells, but instead lots of pretty rocks. Also, the wild life was extremely present: iguanas, crabs, birds, etc. I loved how preserved and untouched by man it all was. That night I met back up with my new friends to share food, beer and many laughs!
On Saturday, I was finally able to go to Manuel Antonio National Park! The line was about an hour wait, but I suspect that was due in part to it having been closed for the last couple days. The ticket was about $20 USD. You guys, this place transcended any other park I had been to in my whole life! The waterfall inside was beautiful, but you could not get up close, so I was a bit bummed about that. But everything else was awesome. The park was huge, with lots of paths and animals everywhere. I saw colorful, beautiful plants that I could not have imagined in my wildest dreams. There were three private beaches inside, smaller than the public beach that I had gone to the day before, but I could see why they were kept private. They were somehow even more beautiful! At the end of the last trail, I came up to this wonderful look out. Luckily, I had my binoculars so I could see the boats, small land masses and lots of trees. This trail had lots of monkeys, both small and large. I never saw any howler monkeys, but I could hear them! As I turned around to head back, I came face to face with a monkey, one of the larger, still cute but less friendly looking ones. It was clearly desensitized to humans, but I did not want to take any chances so I stood perfectly still, trying not to make eye contact. I don't know why I thought eye contact would aggravate el mono, but again I wasn't taking any chances! I can barely beat a toddler at arm wrestling, I wasn't about to battle a monkey on his stomping grounds! He quickly got bored and left me to return to his friends. It was scary but also awesome! I saw so many wonderful things in the park, it is hard to name them all! I don't mind telling you that I could have spent every day in that park if my budget had allowed, but alas it did not.
The next day was rainy so I spent some time with my favorite gal pals at La Cocina. I also people watched, got some writing and thinking done. Not a terribly eventful day but lovely all the same. Monday was my last full day in Quepos so I spent it at the beach. It rained a bit again but it was light and with a view that spectacular, I happily sacrificed being dry. That evening I went out dancing with some friends I had met on my journey. Even though I was not the best dancer I still had a blast! It was an honor to laugh with and learn about such wonderful people. Some were travelers from Spain and Italy, others were local Costa Ricans, but all were beautiful people with beautiful spirits. It was hard to say good bye to a Quepos.
My favorite part about Costa Rica, whether it be Manuel Antonio, Quepos or even San Jose, was how natural everything felt. Back in the USA, when we build, it tends to take over. Here, it somehow seemed more respectful, as if urbanization and nature could live together in peace. For me, this is what it means to say ¡Pura Vida! The literal translation: pure life. Pura vida, you would hear this as a hello, goodbye, a way to convey excitement, it was even written in huge letters as soon as you get off the plane. Pura vida seems to embody the way people choose to live their lives; it isn't just a saying, it is a feeling. I made many wonderful friends and memories, I hope to be back soon! ¡PURA VIDA!