Montezuma is a laidback Pacific beach community on the southern tip of the Nicoya Peninsula in Costa Rica. What is the point of going here? For one, you will have amazing views of the ocean. You will also have access to countless fun activities, from snorkeling to horseback riding on the beach to hiking up the Choro waterfall. Wildlife is abundant and the rain forest crowding the water's edge is teeming with toucans, capuchin monkeys, howler monkeys, tapers, huge colorful iguanas, and countless other wildlife species. But the best part of Montezuma for me was being able to watch the sunrise over the Pacific.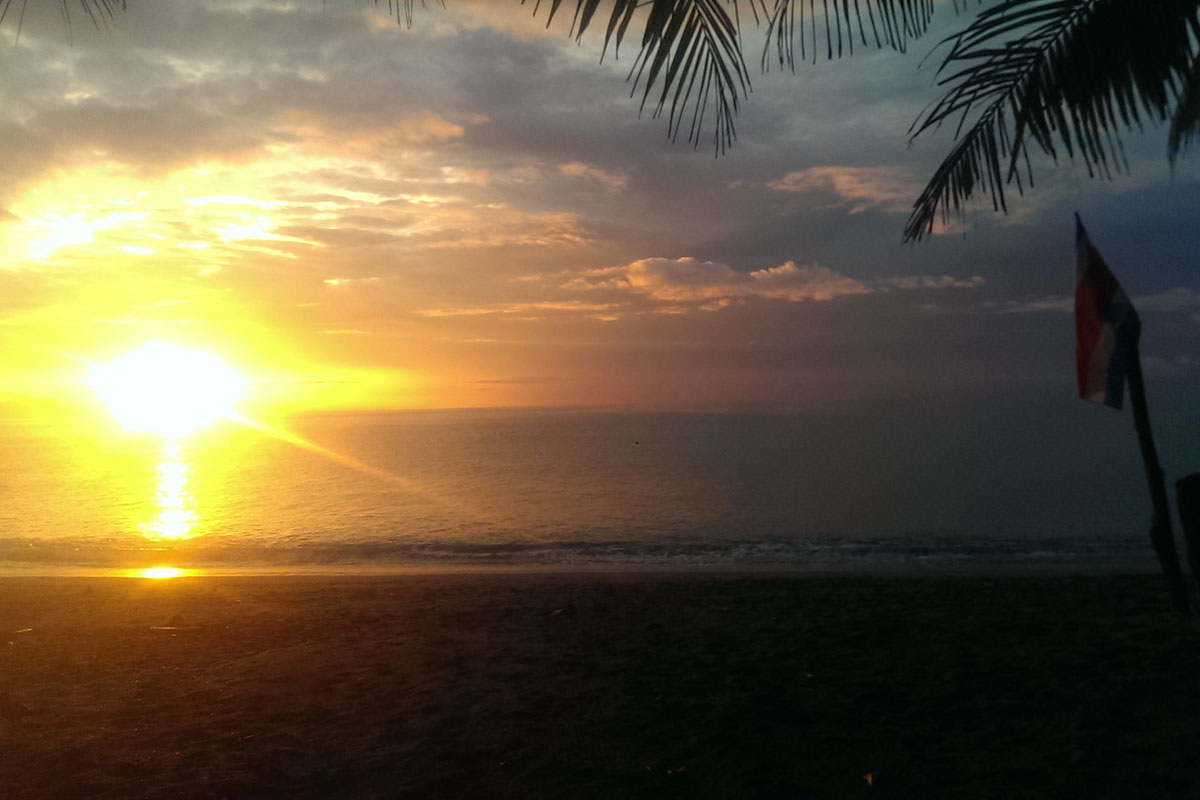 Sunrise over the Pacific
This remote location is now easy to access because of a direct bus that leaves the Puntarenas/Paquera ferry and takes you into the peninsula. The bus ride is short and will drop you off in the middle of Montezuma. From there, it is just a short walk up one of Montezuma's three streets to find food, lodging, and activities.
I arrived in Montezuma mid-day. There is just one ATM in this town, located next to a wonderful gelato shop and across the street from a small grocery store where you can buy anything you may need during your stay. Be careful because often this ATM is down and then you must take a taxi into Cobano to get money. It is better to arrive here with plenty of cash. Fortunately, for me, it was working when I arrived.
After I got cash, I found a hostel next door to the bus stop, where I was able to rent a private bed for just ten thousand colones ($20 USD). The friendly owner provided laundry services for 1,500 colones per kilogram and hooked me up with a snorkeling tour to Isla Tortuga for just $40 USD and a horseback tour along the beach for $30 USD. Most hostels in this area are about this price, but tours can become more expensive during the peak tourism season, which is usually May-July. Since I was there during October, I received significant discounts.
Finding food was not hard here! There are many sodas with excellent seafood and yummy fruit drinks. Since I was there for four days, I sampled almost all of the places in the town. I always enjoyed the best café con leche and gallo pinto in the mornings at every one of the sodas. One morning, we were harassed by capuchins that kept climbing down from the trees to steal sugar packets from the table and then scurry off when the owner shouted at them.
Dinner never disappointed me, either. I enjoyed the best arroz de camarrones, or shrimp fried rice, and mariscos, or seafood. By evening time, the bar starts belting out music and the streets and beach turn into a party. I met so many fun people and danced late into the night every night that I was there.
Montezuma may be tiny, but you will never be bored. There are so many activities to do here. You will find these activities listed at every hotel and hostel, as well as at three separate tour booths interspersed in the town. Do some shopping and ask around to find the best deal. Locals are friendly are more than willing to help you out. Many jewelry vendors set up shop along the two main streets, and you are sure to find something pretty for yourself or someone back home! There are surfing lessons, peninsula tours, scuba diving certification lessons and trips, snorkeling tours, and horseback tours available every day. For free, you can explore the volcanic beaches and hike to the nearby waterfalls, especially the beautiful Choro waterfall. Climb to the top of this waterfall for sweeping views of both the neighboring beaches and the ocean.
You can also enjoy free yoga at ten in the morning on Thursdays at the Davaya yoga center, across from El Jardin hotel in the epicenter of Montezuma, or yoga on the beach for $8 on Tuesday nights at 6 pm. La Escuela del Sol offers fire dancing, surfing, and yoga lessons as well. Almost every hotel in this town has some type of yoga, which is popular stretching activity for surfers, and a welcome relief when you are sore from hauling around a heavy backpack while traveling this beautiful country!
You don't have to spend any money to enjoy yourself on the beach. The beautiful Playa Montezuma will take your breath away. My favorite was Playa Coco, where tall coconut palms line the beach and semi-precious rocks, shells, and scurrying blue crabs and hermit crabs abound. You can sit on the tall volcanic rocks along this beach or go out by boat for deep-sea fishing. There are various trails leading into the jungle, where you will see plenty of animals as well as waterfalls, both big and small. Try to also hit the Cabo Blanco Nature Reserve, which includes a turtle hatchery. I never made it to the reserve, but many people told me that it is an amazing place to see baby turtles marching into the ocean.
My favorite activity here was the snorkeling tour in Isla Tortuga. A boat picked me up on the beachfront and we went out into deep sea, where we donned snorkeling gear and dived into the water. This boat tour is one of the most beautiful views you will ever have in Costa Rica!
Snorkeling is definitely something that you should put on your to-do list when you visit Montezuma. You will see turtles, octopus, and many colorful fish. You may also spot a dolphin or whale in the ocean, though I was not so lucky this time.
The friendly and knowledgeable tour guides took us onto Isla Tortuga for a delicious pescado lunch with plenty of cerveza and fruit juice to soothe our parched throats after an hour of snorkeling. They fixed a fish that they caught with a machete while we were on the boat speeding toward the island. Some men came onto the beach with fresh-caught oysters and scallops, which they cut open for us and prepared with lemon and hot sauce. We had an hour to tour the island and lounge on the pristine white beach before they took us home by boat. The island's native friendly pig even came up to us to say hi!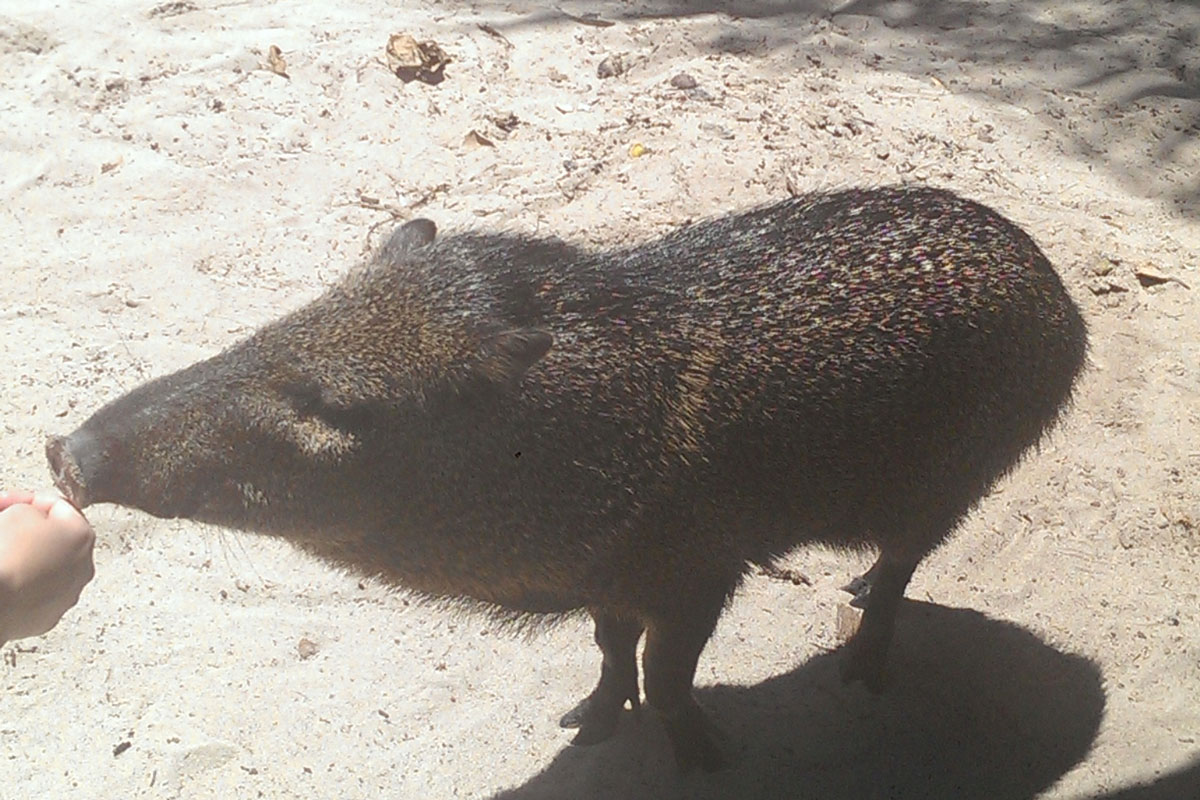 The island's friendly pig
Get up at five in the morning to see the gorgeous sunrise! Then spend your days speaking to locals and enjoying the ambience of this friendly little town. The people here are so helpful that when the ATM was down on my final day here and I had no access to money, someone offered me a free ride into the nearby town of Cobano to get cash.
Montezuma is a special place where you can really enjoy yourself for little money. Don't let the town's tiny size fool you. You will love it here!