The park has different ranger stations in which you can get in through. Sirena Ranger Station which people usually sleep in, Leona Ranger Station which is the entrance from Puerto Jiménez and Los Patos. The latest being the most uncommon.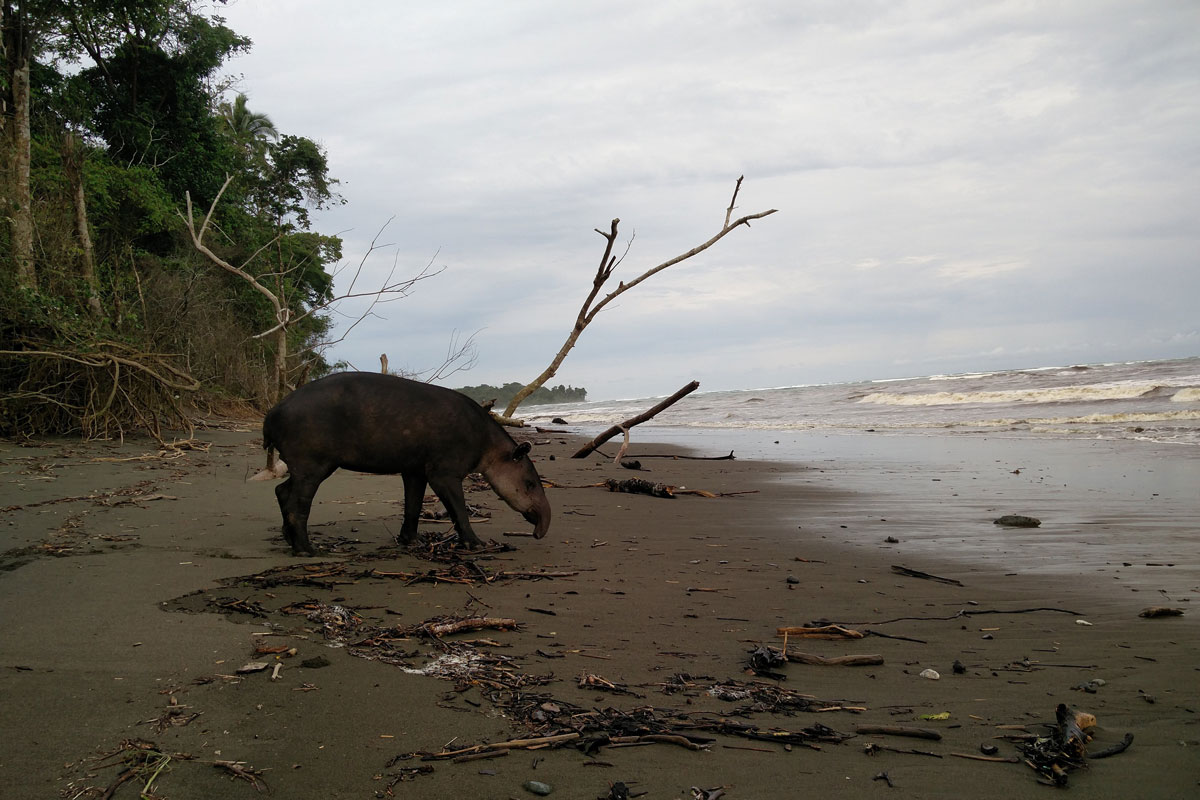 Tapir on the beach near Sirena Ranger Station
I went to Puerto Jimenez spend one night and I did a 2-day hike from Leona Ranger Station to Sirena and back for 40km total. Other people go straight to Sirena by boat from Drake bay and then they hike around Sirena during the day. Some other people hike from Leona half way and they return for a nice one day hike. I think one good option is to hike from La Leona to Sirena, take one day to hike around in Sirena and then either exit through Los Patos or take a boat to Drake bay, this way you see different things and don't repeat any trails. I will share my 2-day hike experience from Leona to Sirena and back on this post.
My first day I drove to Puerto Jiménez where I was going to stay with a friend who is a guide at the park. Corcovado national park is one of the few you need to hire a guide which cost around 100USD per day. You can split this among your hiking group. Once in Puerto Jimenez, I met with my friend and two other people I was going to do the hike with. We went for dinner and a walk around the town of Puerto Jimenez which is small. We also went for some grocery shopping for the hike. Just some snacks, lunch and dinner for the next 2 days, by the time I did the hike they didn't offer any food at Sirena Ranger station where we were set to sleep.
Next day we woke up really early in the morning, got some breakfast from the bakery and took the transport to Beach Carate where we needed to start the hike to reach our entrance of the park which is La Leona National Ranger station. We presented our admissions tickets and we were officially inside the park. From the beginning, you see a lot of nature. We crossed some rivers, hiked in shadows, sometimes under the sun, sometimes on the beach, sometimes in the forest. You see a lot of beautiful landscapes.
We stopped a couple of times for snacks and once for lunch. We took around 7 hours as we were making videos and taking pictures. My favorite part was seeing an ant eater and a tapir. When we got to the Sirena Ranger station we saw how nice the station is. They were even building new facilities. We had dinner and went to sleep since we wanted to wake up at 3am to cross the rivers on time before tide was too high.
The way back was the same but still beautiful, we were a bit faster since we didn't take that many pictures. I would recommend taking the boat to Drake Bay instead of going back to Puerto Jimenez so you see different towns. Once back in Puerto Jimenez we went for some beers, there is also a small beach in Puerto Jimenez that you can go to relax. There are also some dolphin watching tours and other activities.
The next day I drove back to San José happy I got to see one of the best national park in Costa Rica.