You can hike up chirripó in one, two or three days. Doing it in only one day is extremely hard and recommended only if you are in good shape. The more days you can stay the better so you can explore all the different trails the park has to offer. I did it in two days and I will share my experience on this post.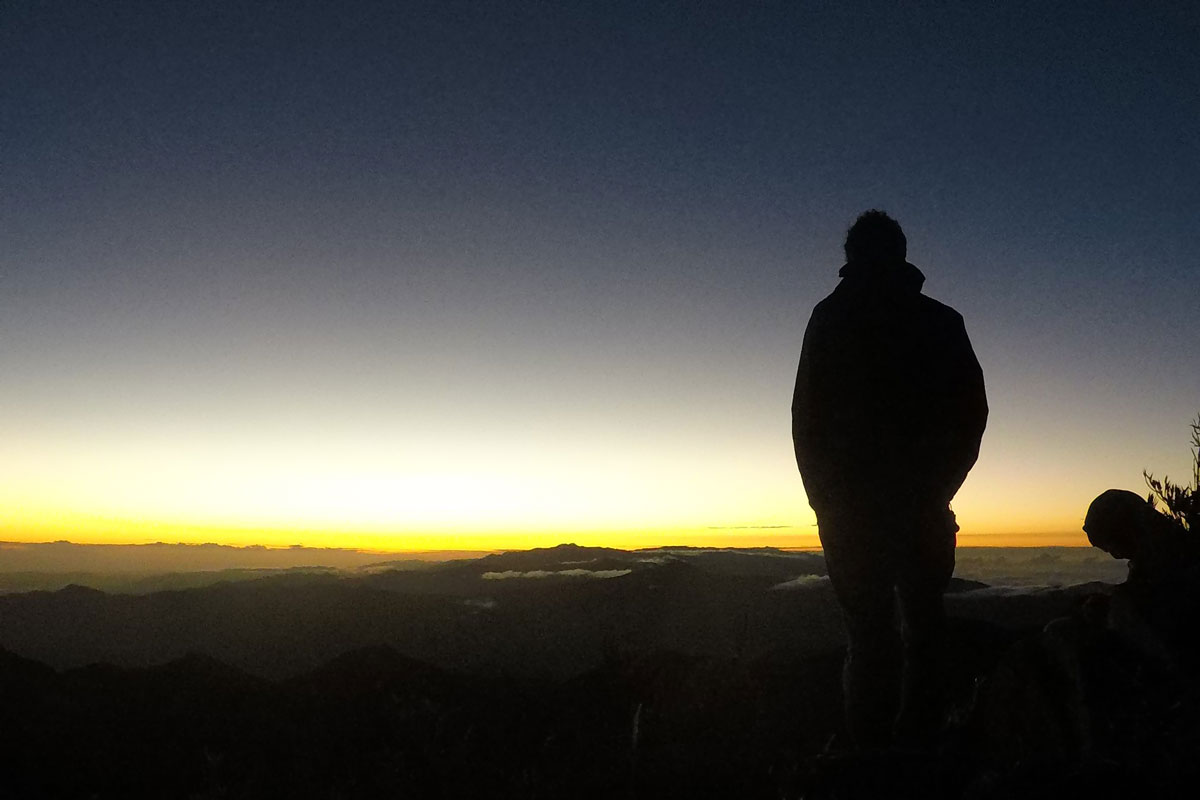 Waiting for the sunrise
I arrived the first day to San Gerardo de Rivas which is a small mountain town. I had to get there the day before my hike so I could pick up the admission and shelter tickets, which I had booked online. Make sure you get there before 5pm, otherwise you will have to wait until 8:00 am the next day when they open.
Having secured my tickets, I went to the grocery stores for some provisions for my hike. I got some juice, fruits and cereal bars. The next day I woke up at 3:30 AM so I could start hiking at 4:00 AM. It was cold but after some walking you warm up quickly. I wanted to get started early to avoid the midday heat.
To get to the shelter in Base Crestones it takes between six and eight hours. The hardest part are the first two kilometers, Cuesta de Agua hill and Los Arrepentidos hill. They are both steep hills. There are also some nice flat parts that you will be able to enjoy the landscape from. The trails are well marked and with signs every kilometer.
When I got to the shelter at 10:00 AM I went for a nap and then had lunch. They have good warm meals and also some grocery items for sale. After lunch, I went to Los Crestones which is about four km away.
The next morning I woke up at 3:00 AM to get to the peak of Chirripó, I wanted to get there before sunrise. It was amazing to hike in the middle of the night. I could see a sky full of stars and enjoy the silence. It was cold but totally worth it.
The last few meters are steep. You must use your hands to help you climb up. I got to the top in about two hours and waited a few moments before the sun began to rise. Once on the top you can enjoy a 360-degree view and a beautiful landscape. You will see many lakes and mountains near and far away. You can easily see Cerro Ventisqueros which is just a few meters shorter than Chirripó.
After some pictures I started on my way back to the shelter and could enjoy all the views I didn't see before because it was dark. I could see Valle de los Conejos and the lakes from different angles. I could have gone back to the shelter through Valle Crestones because it is a good way back but since I had already been there I went straight to the shelter for lunch and pack to start the four-teen kms back to the beginning.