Guanacaste in the far north-west of Costa Rica is a region which is known for its huge diversity of landscapes and activities. You can find pristine beaches, impressive waterfalls, dry tropical forest, wide expanse of grasslands, high volcanos and thermal springs… So there are a lot of things to do and you could probably spend weeks discovering this beautiful region! As we only had a normal weekend for traveling, we tried to pack as many different activities as possible in two days and did not regret it.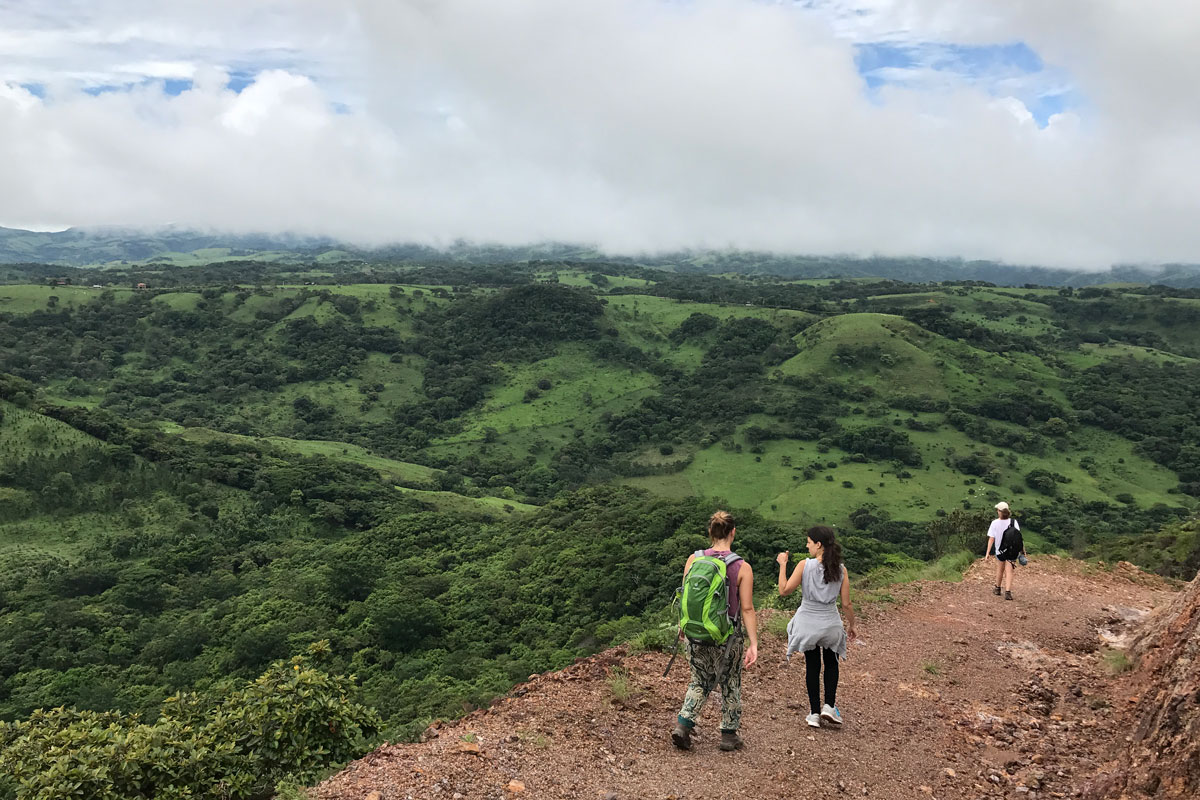 Hiking Cerro Pelado
We left San José very early in the morning driving up the Interamericana Norte to Liberia, our first stop was close to the town Cañas where we wanted to hike the mountains of Cerro Pelado. The starting point of this quite unknown hike is an inconspicuous trail behind a fence and a sign that says "Cerro Pelado", ascending through forest first. The landscape changed quickly as we got up higher and had an amazing view over wooded valleys and mountains. Shortly after we arrived on a green mountain chain, where earthy brown trails meander through grass-covered hills. The view was so different from anything else I had seen so far in Costa Rica and we felt like we were following the trails of the Hobbits in Middle-earth. Unfortunately, it was partly foggy, so we did not hike up to the peak, but for a short moment the clouds revealed the view over the flat green lands behind the mountains and the Golf of Nicoya.
Our next destination was supposed to be the waterfall Llanos de Cortés which is located 3km north of the town Bagaces. The admission fee is only a donation. It was a short way from the parking lot to the enormous waterfall which we could already hear from the parking lot because it was so huge and abundant in water. In dry season, there is supposed to be a beach and you might be able to approach the waterfall more, so you can take a shower. When we were there, it was just too strong and too big, which was really impressive and the bath we took was nice anyway.
After a good lunch in a Soda in Bagaces, we continued on our way further north because we had a reservation at a Lodge close to the National Park La Rincón de la Vieja, which we wanted to explore the next day. Besides of that, we wanted recover from the hike we did in the morning by soaking in thermal springs. You can find plenty of volcano-powered thermal pools, some are really expensive and luxurious and offer also massage and spa options. We chose Yökö Termales which was not too expensive and had several pools, a Turkish sauna and a fun water slide. It rained a lot that day and was quite cold as well, so it was it was delicious to soak in the hot springs and there were not many people. When the weather is better you should be able to have a great view over the volcano Miravalles.
When I am travelling in Costa Rica, I am normally on a low budget trip and staying in hostels, but this region is quite remote and there are only a bit pricier options to stay overnight. We stayed at a really nice Lodge for which it was totally worth it to pay a little more than for a bed in a hostel's dorm. From there we left early in the morning to go to the National Park Rincón de la Vieja. The name means "old lady's nook", and it's named after the active volcano Rincón de la Vieja. Since its eruption in 2012 you cannot longer hike the trek up to the summit but there are plenty of other trails to discover. There are two different sectors which cover an entrance fee each, Sector Santa María and Sector Las Pailas. The main attraction in the Santa María section are the volcano-created thermal pools, it cannot get any more "natural" than this. Nonetheless, we chose the other more visited Las Pailas sector. First we did the hike to the waterfall "La Cangreja" which takes approximately two hours each way. The hike is incredibly varied as you hike through really humid forest first, pass vast green grasslands and then hike through drier forest. The waterfall at the end, dropping about 50m straight from a cliff into a small lagoon, is of a stunning clear blue, even in rainy season. The best thing about it is that you can swim in the lagoon to refresh from the hike. On the way back it started raining like crazy but rain in Costa Rica never is a reason to give up! I always try to remember myself that the rain is the reason why Costa Rica I so green and so beautiful and so it is just part of the whole experience (at least in rainy season). 
Even though we already were a little exhausted we decided on doing the Las Pailas trail as well. This is a really easy well-maintained circular trail of 3 km past boiling mud pools, sulfurous fumaroles, a small bubbling volcano crater and another waterfall.
I enjoyed this weekend trip to Guanacaste very much because we got to see so many different landscapes and waterfalls, did a lot of hiking, but got time to relax too in the hot springs. Besides, the places we visited are not (yet) on the classical travel list of most of the tourists, so it was not crowded at all and the nature in its stillness even more impressive.