After several weekends spent at home, in San José, it was time for me to go back on tour! Since Friday was an official day off (for the United Nations), I had a 3-day-weekend. So I took the opportunity to go on the Caribbean coast with my roommate. We went to Tortuguero, a small isolated village, only reachable by boat. So after 4 hours of travel, we felt as if we were at the end of the world.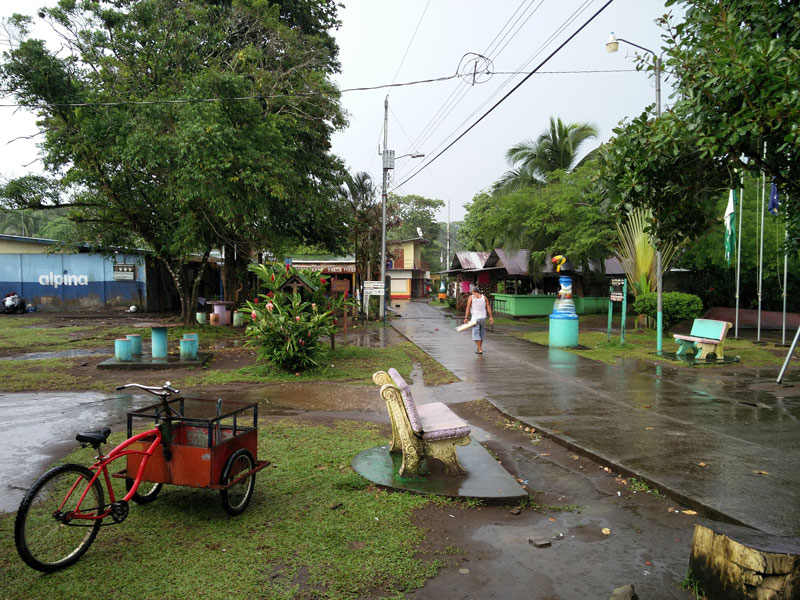 Small plaza in the middle of the small Tortuguero town
Caribbean atmosphere, small colorful huts, everybody knows everybody, super relax people. I immediately liked it. First activity of our stay: eating! I already had the opportunity to taste the excellent Caribbean food during my first weekend in May, in Puerto Viejo. Of course it was delicious as well!

We found a very small hotel ($14 for 2 nights) and visited the village (a main street and small sand trails, like in a camping area). We booked our first tour: a night-time outing to see ... turtles! Indeed, Tortuguero is one of the most famous nesting sites of sea turtles in Costa Rica : 4 of 7 major species recorded in the world lay their eggs on its beaches.
This tour is highly regulated: only a group of 10 people can go on the beach to watch a turtle. We must wear dark clothes, no phone, no camera, no flashlight.
We were out from 10 pm to midnight. At some point, biologists working there spotted a turtle and reported its location to our guide. We ran there, then we slowly approached. And, indeed, in a hole in the middle of the beach, there was a huge green turtle! The guide used a red light to illuminate it, not to disturb it.
It was impressive to see how it was using its hind legs and then its front legs. At some point, a biologist warned us that a second turtle had just come out of the water! It headed straight to the hole where was the first turtle, with no sense of direction. At the last moment it moved aside. So we had the chance to see many different stages, and it was very emotional, especially when the turtle goes back to the sea and disappears.
The next day, we woke up at sunrise for a canoe ride in the national park. Between 6 am and 10 am, it is more likely to see animals. And indeed, thanks to our guide we saw: birds (baby heron in its nest, kingfisher, bird-snake), reptiles (alligators, Jesus Christ lizard, green iguanas), the poisonous frogs (which can cause blindness), and others.
In the afternoon, walk in the jungle. We saw a sloth and its baby on the top of a tree! Then we got lost, we were like survivors! We had to cross an improvised jungle trail (not a super good idea knowing that there are snakes) and then along the beach, despite strong waves... Fortunately, we met a coconut tree felt on the beach, so we were able to pick coconuts and open them as I had learned from the Jamaican guy in Jaco. This little tonic gave us the energy to keep going on. When leaving the park, what a laugh: we were fucking dirty and exhausted, full of sand, mud, sweat and mosquito bites.
In the evening, aperitif and then party at the nightclub, where we danced with the locals! Sunday morning, last breakfast, goodbyes and return to San José: boat and then 3 different buses.
This weekend was awesome, I am delighted. We were very lucky with the weather, of course it rained but it was reasonable!