If you have ever talked to someone who's been to Costa Rica or read about Costa Rica when planning your trip, you probably haven't heard a lot about its capital, San José. And even if you heard something, it was probably something along the lines of "Oh there's really nothing to do in San José, it's a pretty ugly city". Well, I have been living in this city for about 6 months now, as I was doing an internship here with a German company (fyi: I am German), and though I need to admit I was not thrilled right from the start, the city has won me over. Let me tell you why San José actually makes it pretty hard for me to leave it behind, by casting light on 9 things I love about this city.
1. The museums
While I have never been a huge museum fan (I never understood people who suggested going to the museum when it was raining outside- as if that makes the museum any better?), the museums in this city are surprisingly interesting. I only started visiting some because friends of mine invited me to go to the "Art City Tour", an event organized every 3 months which allows you to visit all museum in the city for free and even has shuttle buses going between the museums. I figured, what the heck, it doesn't cost you anything and if you don't like the museum you can hop on the bus and go to the next one, since there were about 15 venues. The first museum we visited already seemed pretty unconventional and had interesting arts on display, and it only got better from there. One of the museums (Museo de los niños) even is a former prison and now looks like a neat castle. I really recommend taking advantage of the Art City Tour to explore this and other museums (check the schedule on their facebook page).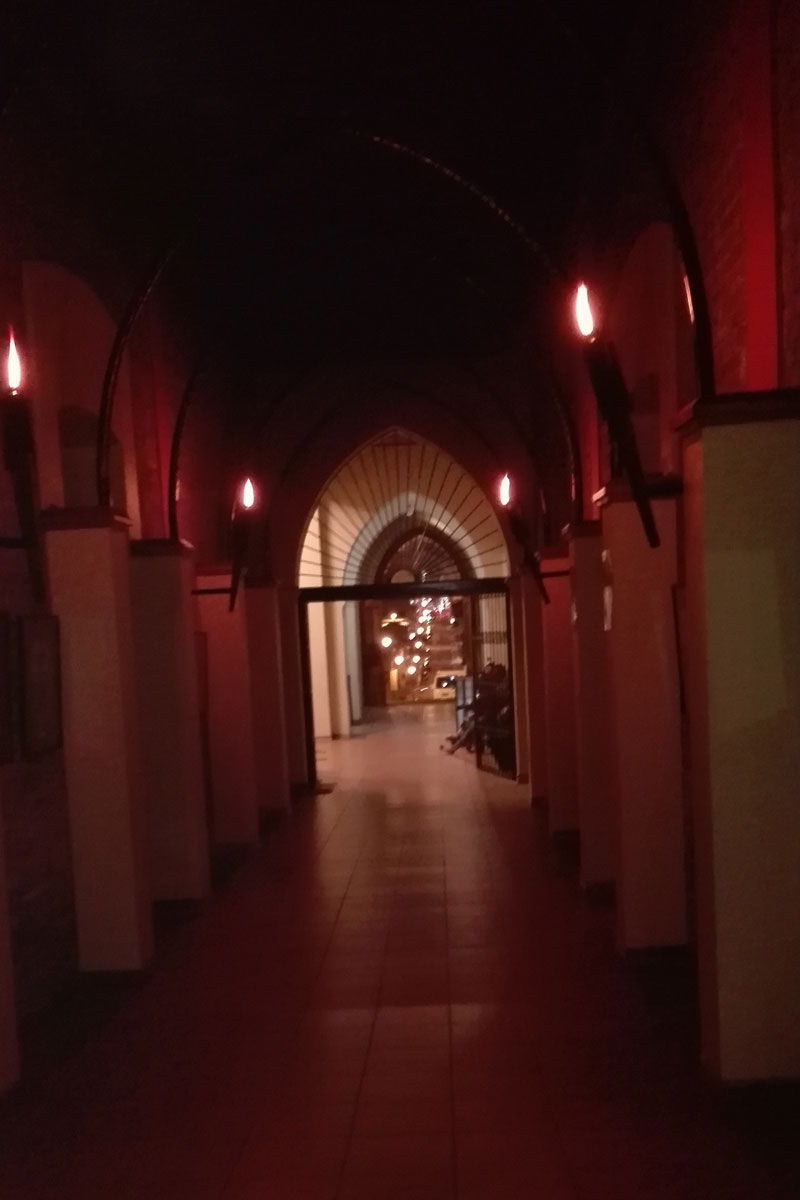 Inside Museo de los Niños during the night.
2. The markets (or ferias)
Tourists usually go to the Central market, which consists of small alleys and is right in the city center. While this is an interesting experience, I never really enjoyed it much- contrary to other markets in San José. For one, there's a lot of other hidden alleys in San José in which you can buy your fruit and veggies, but there's also some markets a bit out of the center, which I like even more. My favorite one is definitely the one in Pavas, and not only because it's not so far from where I live. It is one street packed with stalls, and they sell every kind of fruit, vegetable, and even eggs and cheese for a much lower price than what they sell for in the supermarkets. The only catch: It's only on Saturday morning. For me, it almost got a ritual to wake up on Saturday, have breakfast and go to the feria. I really like walking along the street and talking to the vendors. If you're in need of souvenirs, I can also recommend the Mercado de Artesanías in the city center. While it's not cheap, they have everything you might need, and you definitely get a kind of bazaar feeling. Tip: Bring small cash and only colónes!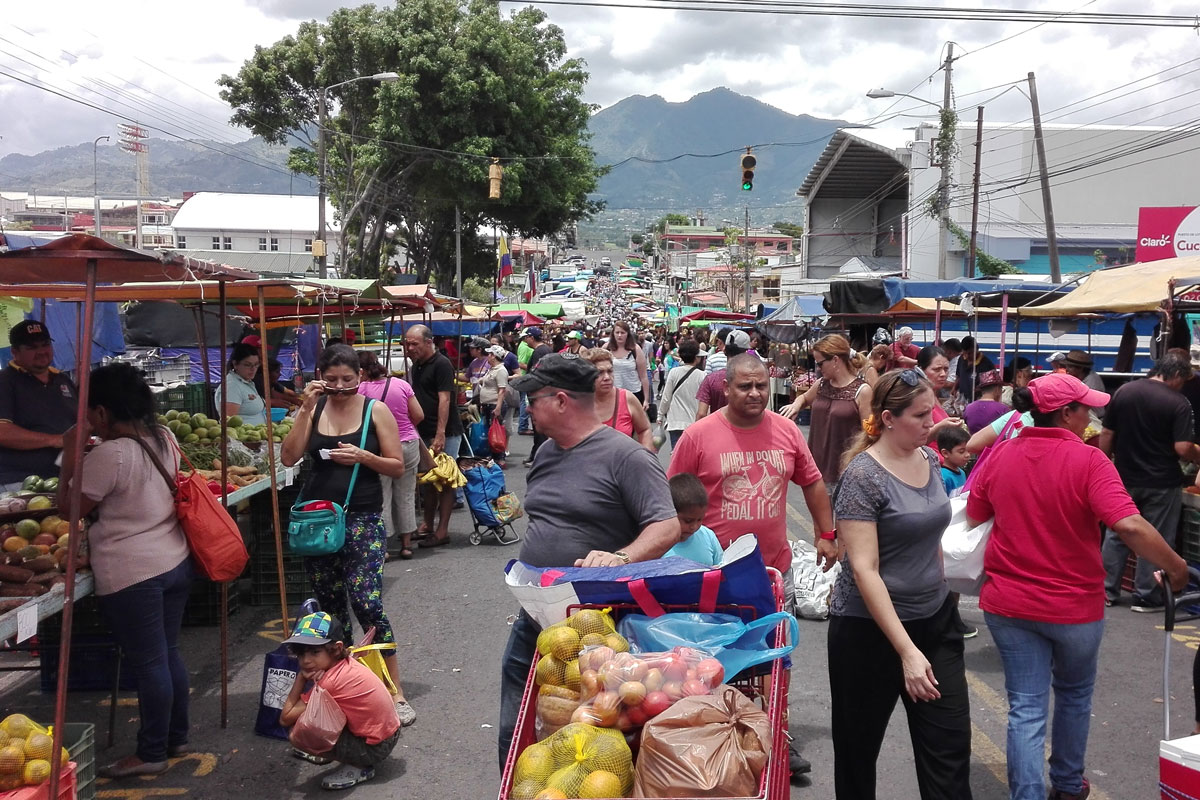 The market in Pavas: Go early to avoid the hassle, or late to get some real bargains.
3. The weather
As you might now, instead of winter Costa Rica has a rainy season. What this means is that, at least in San José, it's usually sunny in the morning, and then will rain all afternoon. At the beginning of the rain season it would literally start raining at the same time every day (around 2 o'clock). While that much rain is definitely annoying, I kind of love that you can have breakfast on the balcony and enjoy the sun every morning, and then have a cozy afternoon inside after work, since it's raining and you don't feel obligated to do anything.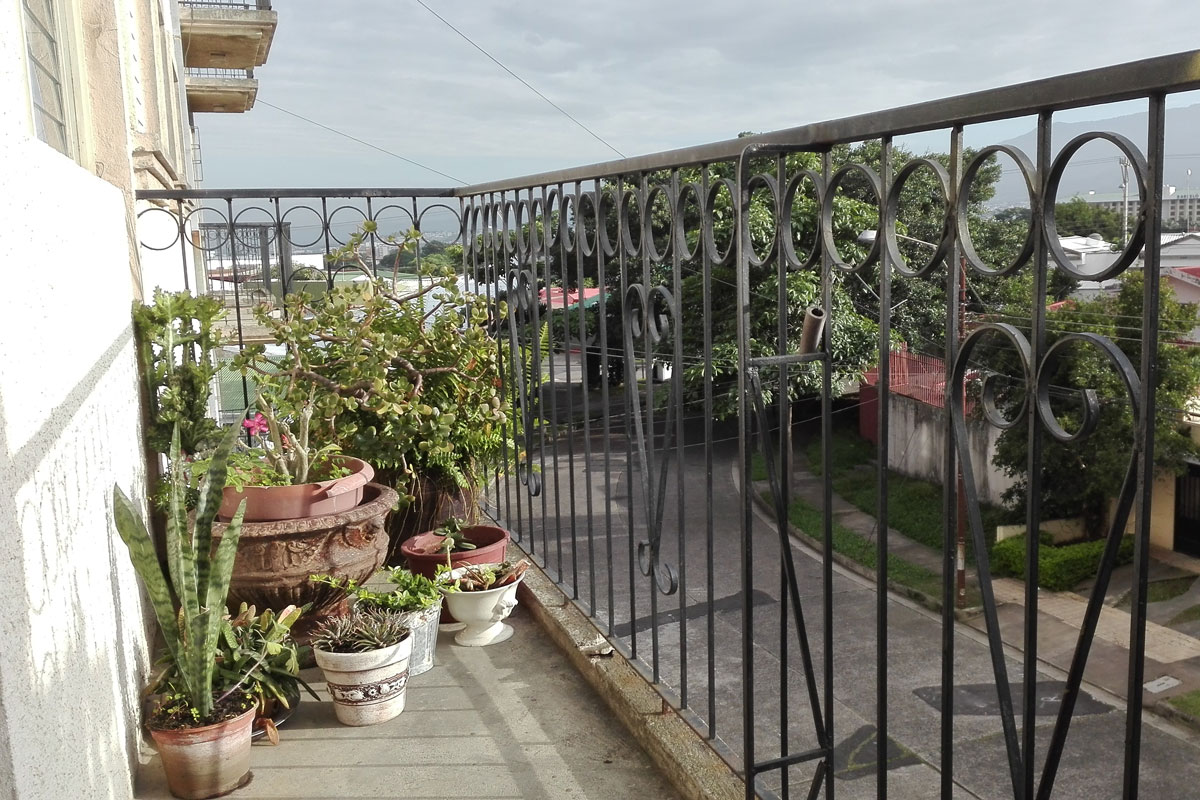 The famous balcony! Love having breakfast here or watching the sunset.
4. The location
However, if you've had enough of the rain and chaos of the city, it's super easy to get out of it. From San José, you can take a but to pretty much every part of Costa Rica. For example, the bus from the city to Puerto Viejo, a nice small village at the Caribbean coast, you can take the 4pm bus on Friday, and go back at the same time on Sunday, which gives you almost a whole weekend at the beach, enjoying the Caribbean sun and the many beaches around the village. If you feel like hiking, why not catch the bus to Monteverde? Or fancy a getaway to Panama City? No worries, the bus to the airport only takes 30 minutes, and since the airport is super small, I've never felt stressed out there.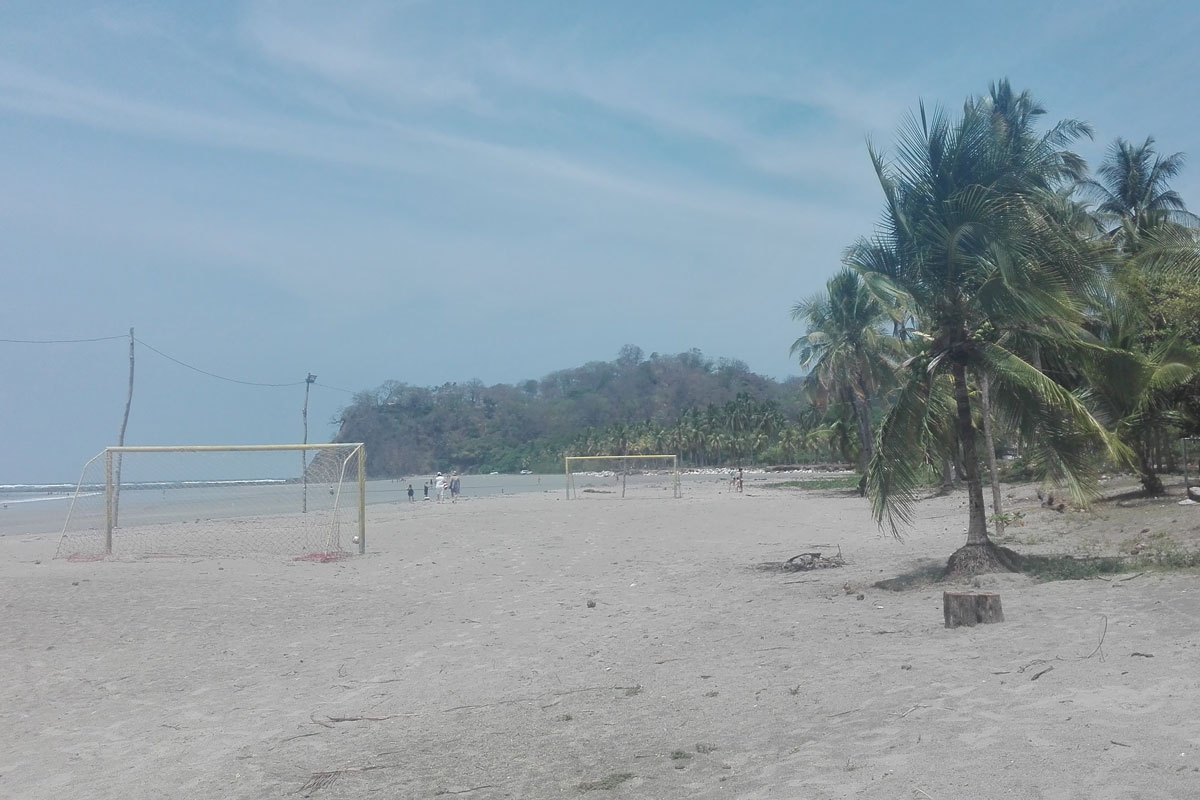 The famous balcony! Love having breakfast here or watching the sunset.
5. The events

I already talked about the Art City Tour, which is an amazing event, but San José has a lot more to offer. While I've been here, I've been to a food fair with live music, a chocolate fair, a cinema that offered 2 USD showings as part of a cultural event (I can only recommend this cinema, super laid back and super cheap with about 4 USD regular entry, it is called Cine Magaly), and so on. Sometimes it is a bit difficult to find out about these events, but if you like the right pages on Facebook (Cine Magaly, Viral Agenda, Couchsurfers Costa Rica), and keep your eyes open, you'll always find something to do!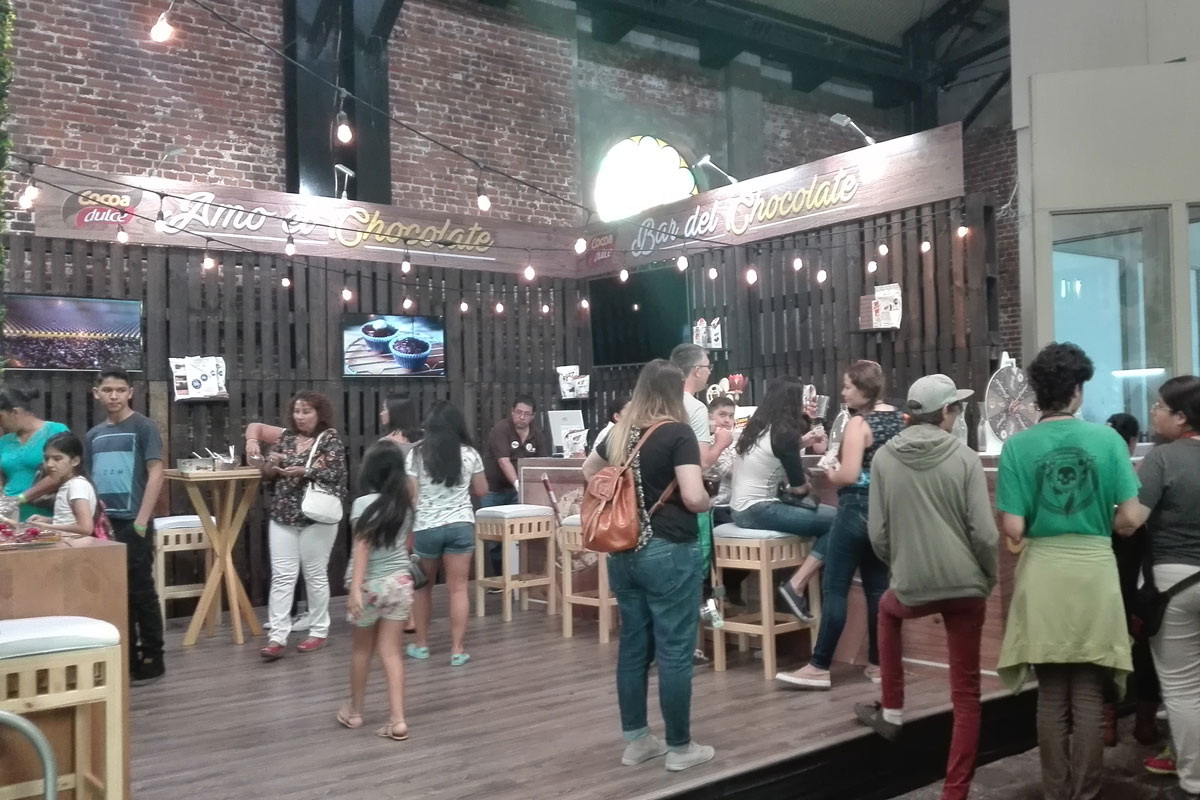 One of many stalls at the chocolate fair which offered free goodies and of course free chocolate tasting
6. The parks
With a city that big and that many cars, I felt a bit overwhelmed at the beginning and really missed nature. At home, I try to go to a park or the forest almost every day, so I really felt a bit down. It comes as no surprise then, that I was over the moon when I saw that there ARE parks in San José. The biggest one of them is La Sabana, with a lot of possibilities for athletes: They have a swimming pool (for athletes only), a running track, and a stadium for soccer games and concerts. I prefer the parks in the city center, although they are smaller. But somehow they have a really nice feel to them. My advice: Go to Parque Nacional, and look for the Café Maza, in which you can buy a picnic basket which comes with the blanket and everything, so you can make yourself comfortable in the park.
7. The views
While this obviously depends on where you are living in San José, you can pretty much see the mountains from everywhere, since they surround San José. So during the day, I can enjoy the view of the mountains from my balcony, and during the night a sea of lights.
8. The nightlife
Again, this takes a bit of searching at first, and there might not be a party at every corner. However, there is one street in San Pedro (Calle de la Amargura) which always has something going on, and a few really cool venues like Hoxton's Pub or, our favorite because there are always a lot of people, La Concha de la Lora. It's cool because it doesn't really matter what you wear (there are some girls really dressed up, but many very casual). It's also one of the easiest ways of getting to know the locals, or Ticos.
9. The cafés
As you already know, the Maza is an ideal café if you're looking for a picnic in the park, but there's also some other hidden gems, you only need to know where to look! For example, the Café Miel has pretty much the best food in the city. I went here on my birthday and felt like the happiest person on earth with my chocolate mint brownie!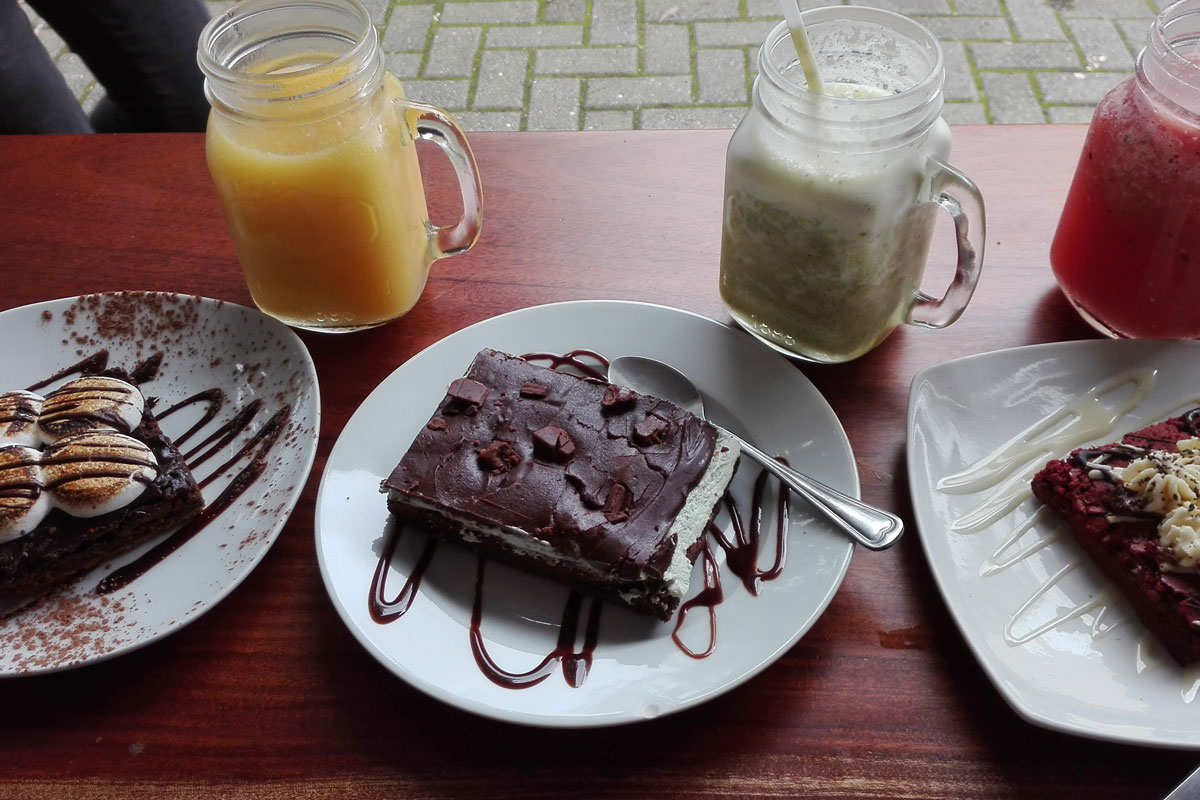 Nothing to see here. Only the best brownies I have ever eaten
As you can see, San José really has a lot to offer, you just need to give it a chance and be patient! If you want to know more about the city's history and buildings, keep your eyes out for the post I'm working on right now about a city tour I have done recently!